Grip-Shopper- an Overview
The Shopper Product
Grip-Shopper is an innovative new product from Grip Software Limited, representing the first of a family of mould–breaking new products.
Based on an ASP (Application Services Provider) hosted model, it provides a common link to retailers who publish their product catalogues online. Grip! Products are based on an architecture which allows people access to web based services and information, whether the access device they are using is connected to the internet or offline, so online businesses can now increase their reach and hold over consumers by making their products available via most computing devices, fixed and mobile.
For shoppers, the purchasing experience suddenly becomes a model of interactive simplicity and fun – and the ability and urge to purchase moves with them, wherever they are and at any time.
Thanks to Grip – Shopper, people are now able to access product details and create orders for goods create lists and compare product prices, even when offline – this capability being mediated by a sophisticated suite of Web Services.
The product also offers retailers considerable scope in terms of "white labeling" (own-branding) - in order to reflect the look and feel of their own online and physical stores. Distribution of this version can be free of charge to the retailer's own customer base – offering them instant access to all online products. Alternatively, the product can be downloaded from the Grip website.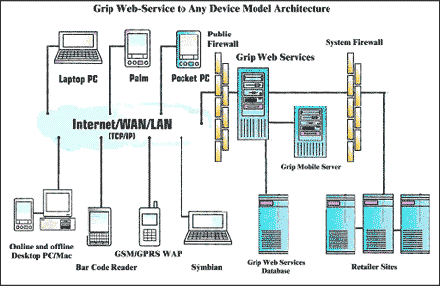 Diagram showing how Grip – Shopper offers secure online and offline access to retailer product databases through multiple device types. Order uploads and product update downloads are "brokered" through secure Grip Web–Services. Individuals can interact with retail web sites, compare goods and prices, create lists and transact as though they are online, whether this is the case or they are offline.

The Technology

The Grip-Shopper application, available for any widely used computing or mobile device, provides retail services to users by leveraging functionality provided by Grip Web – Services (see description below). The Shopper applications include sophisticated data synchronisation mechanisms that allow users to browse product catalogues when offline. Data is synchronised automatically between the applications and a Grip data repository, scheduled to execute whenever the user is online.
Web-Services are application capabilities (or functionality) made available to other applications within a distributed environment, in this case the Internet.
Essentially they make true systems independence possible, vital to the heterogeneous Grip! approach. Grip Web - Services allow any software, deployed on any operating system or device, to communicate with other applications, using a standardised XML (Extended Markup Language) messaging system.
Grip Web-Services, then, present functionality and services from multiple retail outlets in a common, user–friendly format, on any popular device, at any time and anywhere.
Grip-Shopper represents a technically elegant solution to the historic problem of connecting retailers and consumers – now everyone can Get a Grip!
About Grip Software Limited

Established in Windsor, UK, in 2001, Grip Software Limited promotes a range of offline and on-line software that address the needs of a world driven by the desire to capitalise on Internet capabilities. Grip! Is a fully scalable, offline product that operates across computer device types, including mobile devices, and Windows systems.